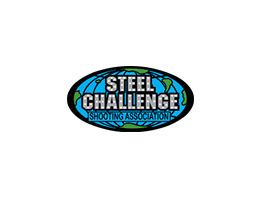 Steel Challenge - Weld County Practical Shooters
The Steel Challenge is a speed shooting competition governed by the Steel Challenge Shooting Association (SCSA) that consists of eight standardized stages with steel targets in three sizes; small circular, large circular and square targets. Competitors are scored solely by the time it takes them to complete each stage, and the match winner is the competitor with the lowest overall time.
There are 8 stages with 5 steel targets on each. Shooters get five runs on each stage. Each competitor shoots each stage five times, with their slowest run dropped, excluding the stage Outer Limits where only four runs are shot and the top three counted. The counting times are totaled for their stage score, and the eight stage scores are added together to establish the competitor's match score.
To learn more, contact us. We love to have new shooters and will gladly introduce you to the sport.
Steel Challenge Matches are held
1st Saturday of each month.
Shooting will start at 9AM during daylight Savings hours , during the Winter months shooting will start a 10 AM,
Registration will start one hour before first shots.
Weather permitting we will shoot Steel Challenge . Watch for any cancellations and schedule changes on our EVENTS page.
The High Plains' Shooting Range has an electric front gate which will open by pushing the red button from 7:00 AM to 10:00 AM for those participating in Saturdays scheduled match event. It will be deactivated after 10:30 AM for range security. Please arrive during these times if you wish to shoot in the match.
A maximum of 80 competitors (8 squads of 10 on 8 stages) or 12 guns per squad will be allowed to register through PractiScore. No walk-up registrations or changes at the match. There is a two gun limit (Any combination of a Rimfire pistol, Rimfire rifle, Centerfire pistol, or PCC). The match fee is $15 for WCFW members and $20 for non-members and $5 more for a second gun. There is also a $5 discount for ECO BOD members and competitors who arrive to help setup between 7:00 to 7:30 AM. Please bring the exact amount of cash or a check to minimize money exchange. If you are a non-member submission of a WCFW waiver form will be required. We will provide the form.
---
The following match administrative information applies:
Match Director:  Pat Miller
Range Master:  Steve Hopkins
Stats Officer:  John & Pam Burkholder
Stage setup starts at 7:00 AM.
Match check in starts at 8:00 AM in the pistol classroom (One competitor in the room at a time and please wear a face covering).
New Shooters Class also starts at 7:30 AM at the pistol pavilion.  Check in at 7:15 AM.
Shooters Meeting 8:45 AM at the pistol pavilion.  Please practice 6 feet Social Distancing.
Shooting starts at 9:00 AM.
---
Range/berm assignments and final squad assignments will be provided at check in.  Squad rotation instructions will be provided at the Shooters Meeting.  Each squad will self RO and score.  Stage boxes will be provided at each berm and will stay on that berm.  Scoring devices will be assigned to each squad and will rotate with the squad.  Minimize RO and scoring duties to 2 or 3 competitors.  Squad members should wear gloves at all times unless shooting, performing RO duties, or scoring.  DQ protocol; using the stage box radio contact the MD or RM immediately if a DQ situation occurs.  Once your squad has completed shooting your final stage, and when given the word to do so, each squad will tear down that stage and prepare the props for pick up.
If you are a new shooter to USPSA/SCSA email me so I can plan accordingly for the New Shooters class.
The following safety information applies:
1)  WCPS runs a cold range.  Firearms must be unloaded when not in use.  This is defined as, no magazine or ammunition loaded in the firearm with the slide forward or cylinder closed and hammer down.  Rimfire rifle & PCC must have an empty chamber indicator inserted.  The only time you may load or make your firearm "HOT" is under the direction of a range officer (RO).  "Concealed Carry" is not authorized while participating in the match.  Range #8 is our designated unload and load area.  Please ensure your firearm is unloaded before checking in for the match.
2)  Firearms can only be uncased, handled or cased in the safety areas or for rimfire and PCC under the direction of an RO at the table next to the stage starting box.  Safety areas are located between North berms 1 & 2 and 3 & 4 and South berms 2 & 3 and 3 & 4.  All other times your firearm must remain holstered or cased.  Only one competitor is allowed in the safety area at a time. 
YOUR VEHICLE IS NOT AN AUTHORIZED SAFETY AREA!
3)  No ammunition or loaded magazines can be handled in the safety area.
4)  All safety rules defined within the USPSA/SCSA rule book will be strictly enforced.